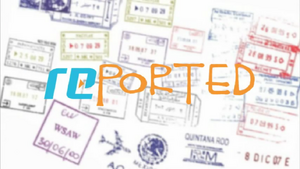 RePorted is a Replay segment that debuted on the second episode of Season 2 of Replay. The intro plays a plane flying sound while the word "Imported" collides with the word "Replay" to make "RePorted." There is a slight pause then Dan's "Fwumpf" sound as a bunch of rubber stamp images are added in the background. In this segment the editors play a game that didn't make the hop to North America (or maybe just the USA?).
For the first installment of RePorted, the Replay crew played Hugo, a semi-popular character in Europe. Confused by the gameplay style of the game, Ben had difficulty getting the hang of Hugo. It played more like an interactive DVD game, with fairly little interaction involved. The gang tried several levels available in the game, but Ben was only successful on one level. Everyone had so much more fun playing Hugo, that it more than made up for the short Bubsy 3D episode.
Jason, who actually owns Tobal 2, hosts this segment. After two brief fights, Jason begins to show off the RPG mode available to the game. He fights a few enemies, before dieing at the hands of a "Brown Mole".